Subaru of America Announces Pricing for 2013 BRZ
*article courtesy of SOA*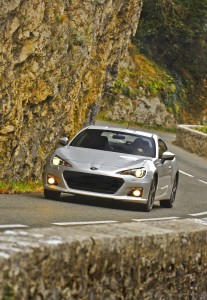 All-new Sports Car starts at $25, 495
CHERRY HILL, N.J., April 5, 2012 – Subaru of America, Inc. today announced pricing for its much-heralded 2013 BRZ. Starting at $25,495 for the Premium model with a six-speed manual transmission. The six-speed automatic version starts at $26, 595. Premium models come standard with touch-screen GPS Navigation, Bluetooth® connectivity and HID headlamps. Above the well-appointed Premium model, Limited models add Alcantara seat inserts with leather bolsters, heated seats and mirrors, dual-zone automatic climate control system, fog lights, Keyless Access & Start and body-color decklid spoiler. Limited models come equipped with leather seats and start at $27,495 when equipped with a six-speed manual transmission and $28,595 for automatic versions.
Trim MT AT
Premium $25,495 $26,595
Limited $27,495 $28,595
The Subaru BRZ arrives in Subaru dealerships this spring after receiving strong media praise for its handling and fun-to-drive persona. The 2.0 liter naturally aspirated BRZ delivers pinpoint handling precision and an unmatched driving experience for sports car enthusiasts of all skill levels.
Subaru developed the BRZ with three fundamentals of sports car design: low vehicle weight, an ultra-low center of gravity and precision steering. Utilizing Subaru's naturally aspirated 200 horsepower horizontally opposed (Boxer) engine design, BRZ is a sports car that does not sacrifice everyday comfort and practicality.
Prices are MSRP before $750 destination charge.
For more information on this and other Subaru models, you can follow Suabru at its Subaru of America Facebook page and on Twitter at subaru_usa
About Subaru of America, Inc.
Subaru of America, Inc. is a wholly owned subsidiary of Fuji Heavy Industries Ltd. of Japan. Headquartered in Cherry Hill, N.J., the company markets and distributes Subaru Symmetrical All-Wheel Drive vehicles, parts and accessories through a network of more than 600 dealers across the United States. All Subaru products are manufactured in zero-landfill production plants and Subaru of Indiana Automotive Inc. is the only U.S. automobile production plant to be designated a backyard wildlife habitat by the National Wildlife Federation. For additional information visit www.subaru.com